QUALITY GUARANTEED
All products are manufactured from SABS approved materials
AAAMSA approved systems
Glazing according to SA Glazing Standards SAGGA
1 year guarantee on workmanship.
Hardware – 5 year guarantee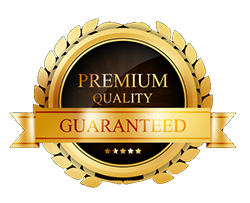 STANDARD TERMS AND CONDITIONS
Payment Terms:
A 50% deposit is payable on acceptance of this quotation, 45% on delivery of units to site. The balance and any other applicable charges are due on completion should Premium Aluminium be responsible for installation.
There will be a 2.5% surcharge made on all cash deposits and credit card payments.
Products and/or installation service below R8000 are to be paid in full on confirmation of your acceptance of the quote.
No payments will be subject to a draw from your financial institution, approval by an architect, other professionals, an occupation certificate from Local Council or for any other reason whatsoever unless agreed to in writing by both parties on acceptance of this agreement.
A 50% Deposit will also be required on any and all additional work required after this quotation is accepted.
Unless expressly agreed otherwise all invoices are due and payable within 3 days of invoice date. Should payment not be received within the 3 days lead time, work will stop immediately until payment reflect.
No retention, nor penalties, will be accepted.
Final payment is due on practical completion (The stage of completion where the works or a section thereof is substantially complete and can effectively be used for the purposes intended). All our work is guaranteed and any snags will fall under the guarantee.
If you don't pay on time, we can cancel our contract or suspend delivery or installation, until you have paid the outstanding amounts. Interest at our banker's prime lending rate will be charged on late payment from date of default until paid in full. No Guarantees will be applicable unless all monies are paid in full.
No Deposit will be refunded in the event of a cancellation or any delays which may occur through no fault of Premium Aluminium.
All products manufactured, delivered and/or installed shall remain, in total, the sole property of Premium Aluminium until paid for in full.
Product Size and Aperture Preparation.
The quotation is based upon the sizes of product quoted, and the preparation of apertures is the responsibility of the Client.
The apertures of the building will be pre-measured before manufacturing commences.
The units ordered herein are made to measure and once units have been manufactured, it cannot be cancelled or varied in any manner whatsoever. Should changes be required, the Client undertakes to pay for all costs already incurred by Premium Aluminium in the execution of this order whether fully or partially completed.
Whilst every endeavour is made to ensure the accuracy of our quotations we accept no liability for errors or omissions which may be found to have occurred. The Client is advised to carefully study the quotation to establish the accuracy thereof.
Any changes to the quote will be in writing, No verbal changes to the quote will be accepted and if so, Premium Aluminium will not be held responsible for any errors.
Scratches and Blemishes
The scratch and blemish inspection should be viewed at a distance of 3 metres under normal lighting conditions. Normal lighting conditions shall mean "reasonable lighting conditions under which the product is normally viewed".
Scratches in aluminium are defines as being a mark on the aluminium surface which penetrates the anodised or painted surface thereby exposing the natural metal. If visible when viewed from a distance of 3 metres under the lighting conditions described, the product/s may be rejected.
Blemishes in aluminium are defined as flaws/stains or runs, or any other indication that mars the aesthetic appearance of the aluminium. If visible when viewed from a distance of 3 metres under the lighting conditions described, the product/s may be rejected.
Manufacturing
A Lead time of +/- 15 working days is to be allowed to manufacture standard items of stock. Special items or colours could take longer, or as advised by Premium Aluminium.
Powder Coating & Anodising of special colours +/-15 working days, Client to provide correct colour code or sample.
This quotation is subject to the express condition that Premium Aluminium shall in no way be liable for any consequential loss, damage or delay to the customer arising from an Act of God, Act of State, breakdown of equipment, labour dispute, war, riot civil commotion, transport  delay or any other causes beyond the control of Premium Aluminium.
Delivery
Goods delivered with protection will be deemed to be in good condition.
The risk in and to the goods sold and delivered by Premium Aluminium to the Client shall pass to the Client upon delivery.
Once goods are delivered Premium Aluminium accepts no liability should damage occur. Premium Aluminium will not be responsible for any loss, theft or damage to existing property or personnel injuries.
Installation
Should site conditions delay installation, Premium Aluminium reserves the right to be compensated for any additional expenses which may be incurred. If our installation teams are required to work according to Clients time schedule, "split installations" a new installation date will have to be rescheduled. All outstanding monies to be settled immediately.
Should our site commencement date exceed 2 months from date of appointment, we reserve the right to amend the glass & aluminium prices according to any increases received from our suppliers.
Duration of installation will vary depending on the status of the building once work commences.
After hours and weekend installation will be charged additional if Client insists installation to proceed after hours.
We will take care when installing our products, we will not be liable for damage caused to your property in the process, unless caused wilfully. For example;
tiles almost certainly will break,
plaster will be damaged while removing existing windows & doors.
dust will be present and is unavoidable while working.
It's difficult to work over/ between plant beds and not damage any plants.
Premium Aluminium will not guarantee waterproofing for any Sliding door or Vista fold tracks being put "on top of tiles".
We will not be held responsible for floors that are not level. Any adjustments or cutting of doors will be for Clients account.
Premium Aluminium will supply access ladders up to 2.5m. Access equipment (scaffolding, hoists, etc.), would be an extra if required.
The appointment of a safety representative and safety files are excluded from this quote.
Client has the choice to leave protection on and clean himself or to ask us to clean while we are on site. Any call outs for cleaning and removal of protection will be charged for.
Whilst we will endeavour to meet the required installation date, such date shall not constitute a material term of this contract and any failure to adhere to such proposed date shall not entitle the Client to cancel this contract or to relieve him from his strict performance of all his obligations.
Once your project is complete, you will be notified and we require that you inform us of any concerns or snags within 48hours, or we will assume you are 100% satisfied.
Exclusions:
This quote excludes all or any building, plastering, painting and tile work.
We can arrange removal of waste material from the site, at additional cost to you.
This quotation specifically excludes sandblasting, night-latches, cabin hooks, burglar bars, weather strips or any special ironmongery unless so specified in writing.
Flush bolts do not fall under our guarantee. If broken flush bolts are assessed to have been damaged due to mishandling, they will be charged for.
Glazing Certificate and Compliance
Glazing to be carried out as per SAGGA regulations. All glass to be clear and standard unless specified otherwise.
Please be aware that your architect or other legally recognized appointee is responsible for ensuring that the energy efficiency requirements in SANS 10400 part XA are complied with.
Glazing certificates will only be issued once final payment has been received.
Conditions regarding our free door and window service after 12 Months
This free service is only on installations Premium Aluminium carried out.
Items faulty under warranty will be replaced free of charge.
The replacement of parts due to wear and tear, excluded.
The replacement of parts due to forcible mishandling or broken glass, excluded.
This free service is only valid if client paid all outstanding invoices.
Acceptance of Quote.
Our Standard Terms and Conditions will apply once we received a 50% deposit.
All quotations are compiled based upon the information and specifications provided by yourself (or your professional consultants)
Notwithstanding the terms of an accepted quotation, should the information, specification or any other relevant factors leading to a quotation be materially altered at any time, Premium Aluminium may include the costs and fees related to such alteration in its interim and final invoices.
The client confirms that they have read all above conditions, and have accepted such. This quote remains valid for 30 working days, thereafter may then become subject to material price increases.
We reserve the right to change these terms and conditions from time to time in our sole discretion. In the event of any violation of these Terms and Conditions, we reserve the right to seek any and all remedies available, whether by law or in equity.